Inspiring words for aspiring walkers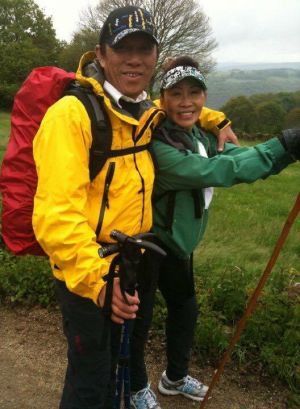 An energetic fitness role model
If you have the chance to meet Tan Li Leng, you'll be charmed by her energetic personality. Ask Li Leng how much time she took to complete 100km in 2010, she'll tell you with a laugh: "27 hours, 33 minutes and three toe nails!"
Li Leng, who turned 60 this year, has a passion for life that is highly infectious. Besides her day job in the insurance sector, she also teaches Jumping Fitness and … pole dancing! The lady with a big heart offers free pole classes to cancer survivors and seniors above 55 years old; she also volunteers at the NewHope Community Services, which serves the homeless.
We asked her to share about her LTAW 2010 experience.
What was the greatest challenge and what did you enjoy the most?
It was a true challenge to test our mind power. As I walked, I kept wondering when the walk would end but I persevered. After the 75-km mark, the walking stick made a "star" appearance. By the last 10km, I almost wanted to cut a hole in my shoes to allow my toes to stick out!!!!! I thoroughly enjoyed the wonderful breaks, the camaraderie with fellow walkers, and the awesome bonding with my teammates, and my lovely husband included.
Use three words to describe your LTAW Experience
Awesome, Amazing, Exhilarating!
What would you say to someone who is thinking of attempting the 100km challenge?
Go for it! The journey can be tiring, challenging and at times gruelling, but the sense of personal achievement when you complete the walk is what money can never buy!
Losing weight, gaining confidence
Every journey starts with the first step. For a group of 50km walkers, their journey began with the Health Promotion Board's Lose To Win programme. Not only have they shed pounds to become fitter and healthier, they have also made new friends who share the same fitness goal. Together, they are continuing their pursuit of an active lifestyle together. 

"When we came across Let's take a Walk 50km challenge, we decided to sign up and challenge our fitness level. Since we are still not able run a full marathon, we can at least complete a WALK MARATHON first," said Jenny Loo (Lose To Win, 2010), who is now a Lose To Win motivator mentoring and encouraging fellow participants.

They've set their eyes on a sub-10 hour finish so if you see Team Lose To Win Warriors during Let's Take A Walk, make sure you cheer them on!

Lose To Win Warriors (Left to right) Emily Chee (LTW 4, 2013), Jenny Loo (LTW 2, 2010), Rajesh Ramachandran (LTW 4, 2013), Ong Wei Suan & Anie Hapi (LTW 3, 2012)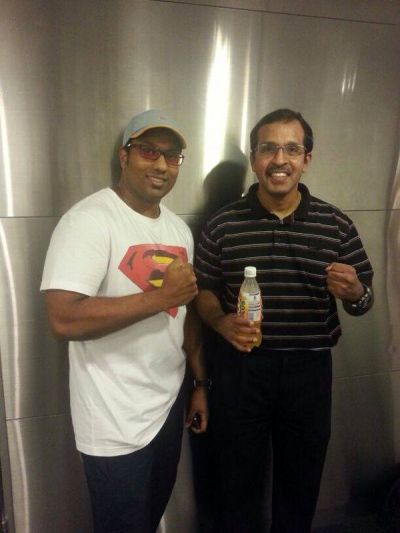 With pain comes glory
2013 Extreme Walkers Vanan (left) and Sivadas have been training for the past month. They have progressed from walking 4 hours, to 6 hours and finally to 8 hours continuously. The two friends have also been hitting the gym four times a week to prepare for a strong 100km finish.

"With pain comes glory," says Vanan, who took part in the 50km category in 2010. He and Sivadas, who is a first-time LTAW walker, say their motivation is "to do a good deed for charity, for Melrose Home, for children."
An uplifting story from 2013 walker Ang Lay Hoon:

After attending the recent practice walks, Ang Lay Hoon shared that "LTAW is a test of one's endurance and perseverance – such values cannot be taught in school. Children have to experience it for themselves."This was after she saw how her 11-year-old son was transformed after completing the 10km and 20km walks despite his complaints.

"My boy used to give up easily but the long distance walks have done wonders…I'm confident that my children can overcome any obstacles in life through such training. LTAW is an excellent bonding activity for families to spend quality time together. We're going to take part in the 40km challenge on 23 Nov. This time, the difficulty has doubled, and will be tough for an 11-year old child. Nevertheless, we will go on walking as long as our bodies permit." 

Lay Hoon herself got active this year after joining HPB's Lose To Win Programme. She is pledging to donate $10 to Melrose Home for EVERY kg she loses by Christmas. Her fellow "warriors" and her motivator Jenny Loo from the HPB programme will be walking 50km for LTAW. When they signed up she wasn't confident of her stamina but now LTAW thinks there's little doubt she can do it!

Young at Heart

All four members of "Team Walk the Talk" have attempted the 100km walk before. Collin (second from left) says: "We're not very young but we're very young at heart."

Though they are in their 40s and 50s (their total age is 196!) Team Walk The Talk seems to have found the fountain of youth through their outdoor activities. The group of sports kakis run, cycle, hike and walk together. This year, team leader Dora (second from right) proposed that they take on the 50km walk and the team is determined to nail it under 10 hours! We wish them all the best in doing so!

Check out Collin's account of his 100km Power Walk in 2010 at bit.ly/collin_ng_100km where the marathoner admitted that "walking could be a piece of cake but to walk 100km – it is not a piece of cake no more".


Walking forged strong friendship
Steven Wong (extreme right in the picture) was part of Team Walking Soul that completed the 50km category in 2012. For the team, being able to walk for a good cause was an early Christmas gift. Seeing the team press on to finish the final miles made Steven a little emo. "I'm very proud that we started together as one team and faithfully returned as one. That 50km of 10+ hours created a strong friendship." 

"Walking is never a popular sport amongst the youngsters and the energetic. In an urban jungle like Singapore, there is very limited space to stage a competitive walking event that intrigues. This could explain why such extreme sport is a rare sight in our sporting calendar, of course with the exception of recreational community walks for the elderly. I believe that LTAW event has created in many a positive view of walking race."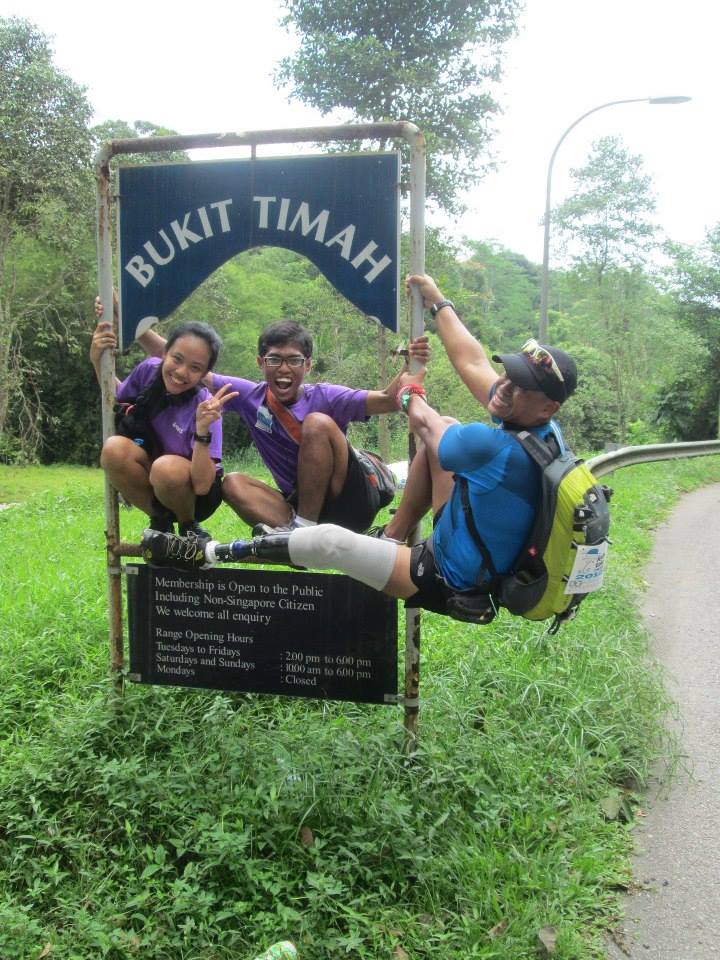 No limits for this superhero
Do you know the Singapore Blade Runner?  
This superhero's real name is Shariff and he's proving everyday that if "Shariff can do it, so can you!" Despite being mobility-impaired, he's run in ultramarathons and is a motivational speaker. In 2012, Shariff flagged off LTAW and walked 50km with his kakis. For the extreme sportsman, the walk was an enjoyable one; they had plenty of time to chit-chat, and even stop at places to makan. See how they monkeyed around! This year (2013), he'll be taking part in the gruelling Commando Challenge on Dec 15, Shariff will walk the 10km LTAW category on Dec 14 as a "warm up" to the next day's event. He's actively promoting LTAW, especially among the disabled community, to encourage his friends to pay it forward. "Disabled doesn't mean we must always be the beneficiaries," said Shariff when we met him over a cuppa. "We can also chip in to help the children at Melrose Home."

Maintain composure to finish the walk
Teresa Lee joined LTAW in 2008. She had been "out of action" due to a torn shoulder muscle and sprained ankle, and wanted something less vigorous than her usual Muay Thai boxing and dragon boating… so she signed up for… a 100km walk. She completed her first walk in just 26 hours! She returned in 2009 but this time it was more challenging as it began to rain after 20km. "Blisters started appearing very soon after… they became so painful that I really had to tell myself to finish it…" Two friends (pictured) who had completed the 50km walk joined her, bringing drinks and much needed moral support to cheer her team on. (Don't we all need friends like them?) Her advice to Extreme Walkers: Maintain composure and discipline to push yourself to complete the walk despite the drop in energy or loss of concentration. The 100km is a real mental challenge!


A Finlander shares why she walks
Why do people join LTAW? Our walking kaki Outi (second from right) tells us...
"Hi! I am Outi – I moved to Singapore end of 2005 from Finland. I've always liked walking, but my longest distance years back was just 25 km. When my friend Lincoln asked me to join their 50km team, it sounded awfully long and I had my doubts, but with all training walks before the actual event I thought I could make it – and got hungry for more! Ever since my first Let's Take A Walk in 2009, I've walked hundreds of kilometres around Singapore with my walking kakis, and have tried twice to reach complete 100km in LTAW and I'm coming for the 3rd time this year (2013). With all these walks, and wonderful friends made along the way, I've found a totally new side of Singapore and I really really like it! So many nice places and routes to explore together day and night, and the positive energy walkers share, is all way too addictive. So much fun in catching up and getting fit!"
Lubricate sufficiently!
Our walking kaki Zhihong (extreme left) is no stranger to triathlons and marathons. So what's a 100km walk to him, right? In 2008, when he and his friends first took part, they actually loaded their bags with excess bottles of water to "up the ante". But in the end, "we were quietly pouring the water away after the 50km mark"! The next year, he returned and nailed the 100km walk. The sports enthusiast says the walk is deceptively simple but it really tests one's inner spirit and puts extreme pressure on team dynamics. He quips: Friendships could be brutally tested. If you're stoked to challenge your inner spirit and wanna see how much your friends can tahan you, here's a piece of advice from Zhihong first: lubricate sufficiently to prevent... erm... certain sensitive body parts from chaffing!

Age is irrelevant when it comes to walking

"How old are you?" It's an irrelevant question when it comes to the sport of walking... because for Martin Tay, who turns 64 this year, "it's all in the mind". He completed the 100km walk in 2010 with a final dash to Liang Court. Bridgette (the walking noob who did a 10km) was so impressed by Martin's 100km finish that she couldn't resist snapping a picture with him! *HERO!* Martin was also featured in Challenge magazine (www.challenge.gov.sg/2012/03/get-sporty) in 2012. He is quoted: "I run the 42km marathon a few times yearly, so walking 100 km in a group was quite enjoyable. The greatest obstacle was my body clock. My legs were walking but my system was half-asleep. My teammate Rena was afraid I'd fall asleep so she walked beside me when we were walking through the night at the ridge at NUS…"